Looking Through the Eyes of Faith
November 8, 2013 is a dark page in our history. The day would long be etched in our memory as the catastrophic event that happened in our country then was unprecedented in magnitude. Supertyphoon Yolanda (international name Haiyan), the strongest typhoon to hit land on the planet Earth, battered the Philippine shores: pounded the Visayas and went on rampage particularly along the coastal towns of Leyte and Samar: killed thousands of people; destroyed homes, old historical churches, bridges, and mansions; caused loss of livelihood and income; toppled communication and power lines; leveled down villages.
Indeed the devastation was overwhelming; a return to normal conditions of the towns and cities seem unthinkable. Memories were swept away by flood and dreams were shattered.
Soldiers of Christ through Confirmation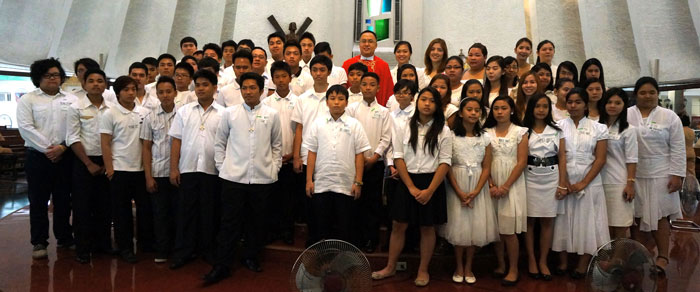 "I will make you fishers of men." Bishop Teodoro C. Bacani  reiterated the same words of Jesus to His disciples during the Confirmation and Eucharistic celebration  on the morning of the Fiesta Day of St. Andrew the Apostle Parish (SAAP),Tuesday, November 30, 2013. The occasion was concelebrated with our Pastor Monsignor Dennis Odiver.
Those who were going to receive the gift of the Holy Spirit through the Sacrament of Confirmation that day were in white. They seemed to come from all walks of life and their ages range from early teens to young adults as the minimum age for confirmation is 12 years old. Some of the candidates are friends and Parish workers. Some of the ninongs and ninangs (godparents) are also familiar faces.
Immaculate Conception
White, pure, super clean, without blemish, blameless, sinless, without an iota of dirt, without any form of impurity. These words come to our mind when we try to picture the meaning of immaculate. That is how the Bible calls the conception of Jesus Christ when he was conceived in the womb of Mary ,his Mother. Let us read the Gospel of St. Luke chapter 1, verses 26-28.
"The angel Gabriel was sent from God to a town of Galilee called Nazareth, to a virgin betrothed ot a man named Joseph,of the house of David.
The angel Gabriel upon coming to Mary said, "Hail, favored one! The Lord is with you.! But shw as greatly  troubled at what was said and pondered what sort of greeting this might be.